Discover some of Anders Zorn's most famous works
The Zorn Collections is the official name of the couple Anders and Emma Zorn's donation to the Swedish state, and consequently also of the institution in Mora. The donation included almost all of their property, including sixty buildings and nearly 20,000 objects. In addition to Zorn's own works, the collections contain valley paintings and common objects, woven wallpaper, silver pieces, antique sculptures and paintings by old masters and friends of the artist.
Below we show a selection of Anders Zorn's most famous works from the collections.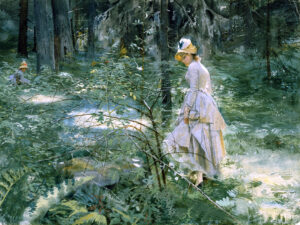 The Thorn Bush
1886
Watercolor
Zorn had his breakthrough as a watercolorist. During the 1880s he worked exclusively as such. With his brilliant technique and feeling for the medium, he achieved mastery in the genre in early years. A walk in the forest on the island of Dalarö in Stockholm's archipelago, gave rise to this watercolor. According to legend, Emma caught her skirt on a bush and asked her husband for help. But instead of helping, he told her to keep still, took out a box of watercolors and started painting. To the left we see a relative of Emma's keeping her company. Earlier, this watercolor hung in Emma's bedroom in the Zorn House.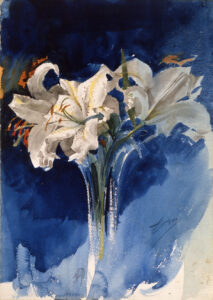 White lilies
1887
Watercolor
This picture was probably made in connection with the watercolor, Love Nymph, for which Zorn made several nature studies, set in Kew Gardens. These works are unique for Zorn – he never again made this kind of botanical study.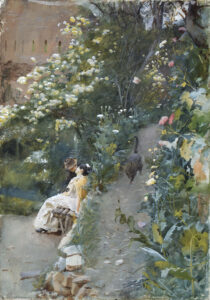 In Alhambra Park
1887
Watercolor
The old palace and fortress complex, Alhambra, located in Granada, was an attractive destination for artists in the late 19th century. Zorn arrived during his third journey to Spain in April 1887 accompanied by his wife. A small garden at Alhambra provides the setting for this watercolor, where a man and woman are seen kissing on a park bench. The woman worked as a kitchen maid and modelled in countless pictures for Zorn in Alhambra.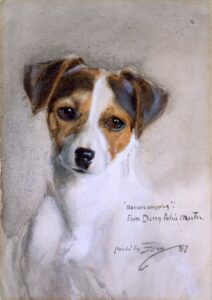 Derry
1887
Watercolor
This Jack Russell terrier belonged to Zorn's friend Charles Armitage of Potters bar in Hertfordshire. Zorn was a great animal lover and the comment "no more whipping" was a veiled challenge to his master to treat the dog more kindly.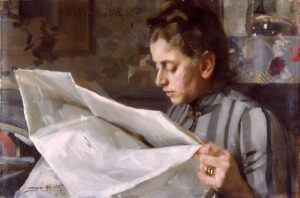 Emma Zorn Reading
1887
Oil on canvas
In the winter of 1887–88, Anders and Emma Zorn stayed in the small fishing village of St Ives in southeastern England. It was there, Zorn began to paint in oils, perhaps inspired by colleagues in the international artists' colony based in the village. In Emma Zorn reading, he lovingly portrays his wife as he often saw her, concentrating in a slightly short-sighted manner on a book or as seen here, a newspaper. In true Renaissance tradition, he has printed on top of the picture AETATIS SUAE 27 (her age 27). During the next few years, Zorn alternated between watercolor and oil painting, until he switched completely to oil.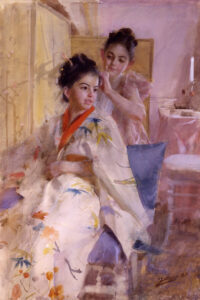 Les Demoiselles Salomon
1888
Watercolor
In 1888, Anders and Emma Zorn settled in Paris. It was a year before the great Exposition Universelle was going to take place, for which Zorn wanted to prepare on site. In Paris, several portrait commissions from members of some wealthy families also awaited him, commissions that could be important for his future career. In this watercolor, we see two French sisters, Jeanne and Antoinette Salomon, busy at home getting dressed. It is one of Zorn's largest watercolors and was influenced by Japanese art. Emma Zorn acquired the picture in conjunction with the commemorative Zorn exhibition in 1924. Jeanne, the sister who is standing, was at that time a war widow in France; decades later she was murdered by the Nazis.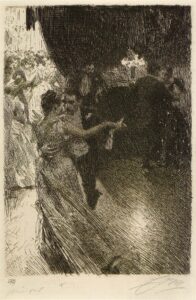 The Waltz
1891
Etching
This etching was made after an oil painting that Zorn painted in Paris and which was bought by an American art collector. Zorn writes about the painting in his autobiographical notes: "I, myself, liked to dance and I wanted to catch the movement from the society balls I witnessed in Paris. There was such a mess of people that you could rarely take any steps in the ballroom without being pushed out of step. To dance more peacefully, you had to move into an antechamber; it was that kind of intimate scene I wanted to depict." In the background, Emma Zorn is carried by the artist, Louis Sparre and in the foreground Zorn himself dances with Märta Petrini, a Swedish opera singer.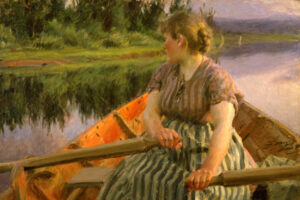 Midnight
1891
Oil on canvas
"A bright and chilly Nordic summer's night" is Zorn's own description of this painting's theme. With a few experienced strokes of the oars, the woman steers the boat towards the shore. The air is moist with dew and the first rays of sunshine strike the inside of the boat. The painting was first sold to French opera singer Jean Baptiste Faure. Later it was bought back by Emma Zorn.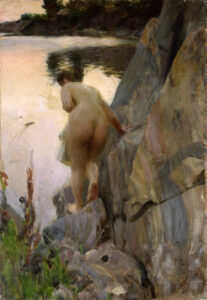 Summer Eve
1894
Oil on canvas
During the summer of 1894, Zorn stayed on the island, Dalarö in Stockholm's archipelago, where he sailed his boat Mejt. In the painting of the girl going down into the water for an evening swim, Zorn joins a genre with a long tradition in European art, "nudes in open-air". However, Zorn brought a new, healthy sensibility to the genre by painting real flesh-and-blood women, not ancient goddesses. The woman's bare skin joins the landscape in a mother-of-pearl shimmering color chord. For a period, Summer Eve was owned by the National Gallery in Berlin.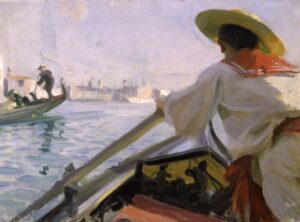 In my Gondola
1894
Oil on canvas
In the fall of 1894, Emma and Anders Zorn traveled to Venice, invited by an American art collector, Isabella Stewart Gardner, and her husband John. While the Zorns stayed in their grand palace next to Canal Grande, a couple of gondoliers were placed at their service. Emma was quite charmed by one of them. Zorn writes, "My wife asked to sit with me in the gondola, just to see his back and neck. To my shame I must admit that I only painted him from the back, just what I saw as he rowed." The artist captures the colors, light and fresh breeze across the lagoon in what became one of his most impressionistic works. The painting is supposed to look like a snapshot but is deliberately composed by Zorn.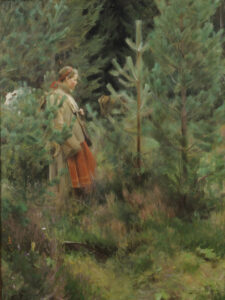 Herdsmaid
1908
Oil on canvas
Zorn always bore a great love for his hometown, a feeling that deepened even further with his and his wife's move to Mora in 1896. In his paintings from his native area, he strives to interpret the peasant culture that he had such a strong affinity to. The subject of his work is everyday life, and the mode mood is calm and gentle. In Herdsmaid, he depicts a girl, dressed in the traditional mora costume, herding the cattle in the forest. Zorn may have been inspired by the art of photography; the focus seems to be on the girl, while the surrounding vegetation is somewhat blurred.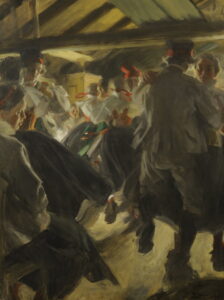 Dance in Gopsmor Cottage
1914
Oil on canvas
Zorn could sometimes withdraw to his hunting and fishing cottage, Gopsmor, located on the banks of the river Österdalälven a couple of miles north of Mora. Here, the artist could live an old-fashioned summer pasture life and paint undisturbed. Occasionally, however, Zorn liked to break the silence in the peaceful environment and invited young people from the area to dance. The music was provided by an old fiddler from a nearby village. Dance in Gopsmor Cottage illustrates a moment like that. The young men and women are depicted in a fast-paced "polska".
Self-Portrait in Red
1915
Oil on canvas
Looking at Zorn's final self-portrait, one may echo the words of the art critic, Klas Fåhræus: "The first impression of Zorn as a man and artist was the striking spiritual massiveness of his nature. There was no division between his character and his art […] They were solidly welded together." Zorn, dressed in a red jacket and knickerbockers with a cigarette in his hand, could not decide which setting to use for his self-portrait, but finally chose the studio in the Zorn House.